No more
guessing games.
CAF empowers you to pinpoint the best creative partner based on the exact criteria you choose, from location and services to client experience and industry expertise.
No more
unreliable ratings.
CAF gives you meaningful, verified ratings based on proven results and vetted recommendations so you can find the most qualified creative parter to build your brand and conquer your market.
No more
scouring websites.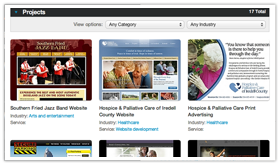 CAF delivers everything you need to research and compare agencies – including ratings, projects and client recommendations – in one consistent, streamlined view.
CAF Magazine:

Your one resource for
the best experts and the best expertise.

Not only is Creative Agency Finder the one place where you can find the best business growth partner, it's also the one place where you can find the best marketing and business growth intelligence from the industry's leading experts.

Get new articles and inspiration daily from seasoned professionals who are in the trenches of today's marketplace, bringing you first-hand insights to help you outsmart, outreach and outsell the competition.